I've been an Arsenal supporter for over 40 years now, and I have seen an awful lot of shirts come and go. There have been a few I haven't been overly fond of, but the first shirt is always red and can't go too far wrong.
However, there has been quite a lot of variation in the away shirts over the years, and it hasn't always been to my liking.
I'll attempt to list my 10 favourite away shirts of the last 41 years, and maybe even give a reason or two as to why I liked them. I'm sure my personal favourites won't be the same as many others, but everybody can't have the same tastes.
1: Away Shirt 1992/3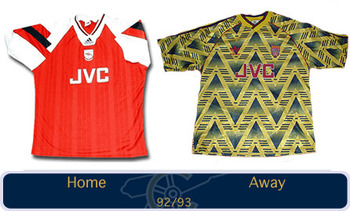 The Arsenal away shirt for 1991/92 and 1992/93 was an eyesore to a lot of people, but I actually liked it at the time. It was certainly different from anything I had seen before, and I like a little bit of variety in life.

There were many Arsenal fans who thought it was hideous, but as time passed their opinions on it have tended to change. It is now regarded as quite a unique shirt, and maybe even a masterpiece too.

2: Away Shirt 1970/1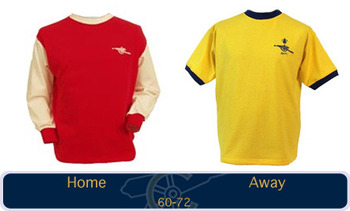 Arsenal won the first of their three doubles in 1971, and they completed it by winning the FA Cup final in their away shirt. They were the days when football teams rarely changed their shirts, and Arsenal wore that yellow shirt for many years.
The shirts may have been very heavy and held on to moisture back then, but Arsenal's away strip of yellow and blue always looked good on them. I have had a fondness for Arsenal playing in yellow since then, and some of their best victories have come in that colour.
3: Away Shirt 1988/9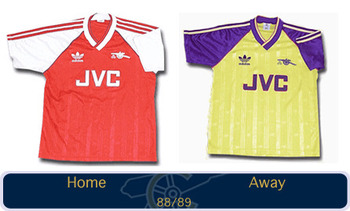 Arsenal had probably their greatest victory ever in the very last game of the 1988/89 league season. When Michael Thomas broke through to score the goal that won Arsenal the league at Anfield in May 1989, he was wearing yellow yet again. It was Arsenal's first league title in 18 years since their double of 1971.
I had that shirt myself and I wore it to football training two nights a week for many years until there was nothing left of it. I still regret not holding on to it, as it will always have a special meaning for Arsenal fans.
4: Away Shirt 1997/8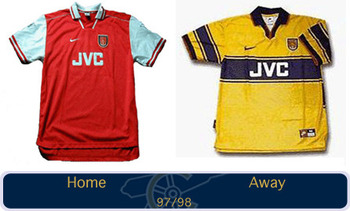 The 1997/98 season was Arsene Wenger's first full season in charge at Arsenal, and it ended with the club's second double. The game that turned the season in their favour was a 1-0 away win against the champions Manchester United, and they were wearing yet another famous yellow shirt on that day.
When the chips are down and Arsenal need a result on the road, it seems yellow is the colour to deliver that result. The away shirt from that season was a very bright yellow, and I always thought it looked really well on the players. I had the shirt myself as well, but it too got worn out from overuse.
5: Away Shirt 2001/2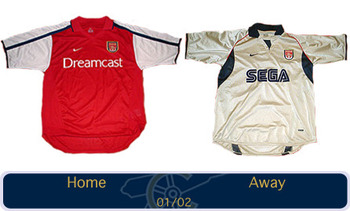 Arsenal won their third double in 2001/02, and they had the audacity to take the title at the home of their closest rivals. On that special night at Old Trafford, Sylvan Wiltord scored the winning goal in the golden away colours of Arsenal.
Up to now, my favourite Arsenal shirts had all been yellow, but the golden shirt looked really good too. At first, I wasn't too happy with the colour, but as the season progressed it grew on me. I thought it had a really classy look to it, and it suited yet another team of double-winners
6: Away Shirt 2008/9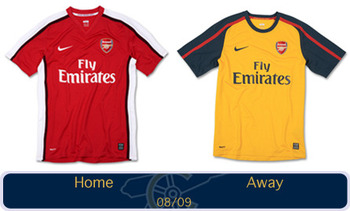 I've always liked Arsenal playing in yellow away from home, and the away shirt for 2008/09 was a return to my favourite colour. Unfortunately, the home shirt that season had red sleeves, and like a lot of other Arsenal fans, I wasn't particularly happy with it.
The return to yellow in the away shirt did go some way towards making up for the Charlton Athletic style home shirt though. The season might have ended in failure for Arsenal, but at least there was another excellent away shirt to add to the fans' collections.
7: Away Shirt 2011/2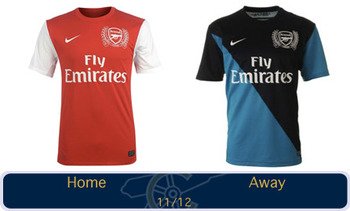 The current Arsenal away shirt looked a little strange to me when I saw it first, but it has grown on me since then. It wasn't helped by Arsenal getting a thrashing from Manchester United in the new blue away shirt, but the more I see of it the more I like it.
It's a nice mixture of two shades of blue, and it just so happens they are the colours of my home city, Dublin, too. It may not be a yellow shirt, but as long as it looks well I think that's good enough for me.
8: Away Shirt 2009/10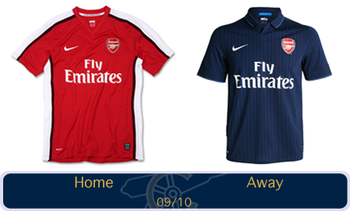 When I first saw Arsenal shirts which looked a little like baseball shirts, I wasn't particularly happy, but I have to admit the 2009/10 away shirt was very nice. The pinstripes were certainly influenced by the club's American ownership in my opinion, but the fact that they were not white made all the difference.
It was worn in another season where Arsenal promised so much, but ultimately failed to deliver.
9: Away Shirt 1993/4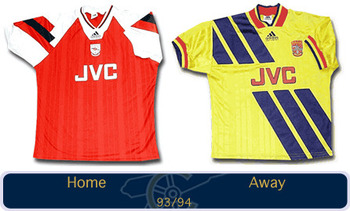 The 1993/94 Arsenal away shirt was more than a little loud, but as I have said before, I have always liked them in yellow.

It had the JVC logo on it which always brought back memories of the league triumph in 1989. I suppose it looked a little like that shirt, and that's probably why it was so popular.


10: Away Shirt 1995/6
The away shirt for the 1995/96 season looked like it had a lightning streak running through it, but unfortunately the team weren't setting the world alight that season. It was one of the first Arsenal away shirts to come in blue, and it looked really well despite the odd colours.
The current away shirt actually looks like it might be based on the one from 1995/96, and I can understand why the club chose to copy it. It was different from the shirts of other teams at the time, and it's always nice to be a little different.
All of the shirts used in my slides were courtesy of
The Cannon
, and I'm grateful for their hard work.
That's it for today.
It's not too late to join the over 1,000 other teams in my fantasy league, and there are prizes for the top three teams at the end of the season. Just go to the
site
and use the code 125540-42785 to join my league when your team is set up.
To join the predictions league, just go to the
site
and set up your predictions. Then use the code F688F-JCO to join my league. I'll update the league table in my predictions every week.
Don't forget you can follow me on
Twitter
,
Tumblr
and
Facebook
too.
I'm also a member of a very good and very active Arsenal group on Facebook which you can join
here
.
See You Tomorrow