When Arsenal sold both Cesc Fabregas and Samir Nasri in the summer it looked like Jack Wilshere would be the man to lead their midfield this season. However, he suffered an injury before the season even began, and he won't be back until some time in the new year.
Mikael Arteta and Yossi Benayoun both arrived just before the transfer window closed, and Arteta has settled into the team very well since then. Benayoun hasn't had too many chances to play, and when he has it has been in a wide attacking role. He looks capable of playing a role behind Robin van Persie if he's needed there, but the chances are Arsenal will add to their midfield options in January.
It would be a big risk for Arsenal to pin their hopes for the second half of the season on Wilshere returning from injury. They will have a tough battle to finish in the top four of the Premier League, as well as playing in the FA Cup and the knockout stages of the Champions League. Wilshere's return is by no means certain, and there are some very good players who might make a difference to the Arsenal team.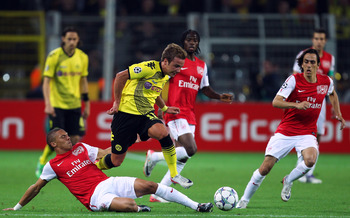 If the
reports
are to believed, Borussia Dortmund and Germany playmaker Mario Gotze has hinted that he would like to play for Arsenal. Despite being only 19 years old, Gotze has already shown himself to be one of the best playmakers in world football. He has established a place in both his club and national sides, and he looks like he will be a real star of world football in the very near future.
There are very few players in the world who would be capable of directly replacing Cesc in the Arsenal team, but Gotze is one of them in my opinion. His club look destined to miss out on the knockout stages of the Champions League which could possibly leave the door open for him to move in January. I would imagine that Dortmund would want to hold onto him for as long as possible, as his value is sure to rise very quickly.
He has the ability to pick a pass and score goals, as well as good pace and excellent technical ability too. He would fit perfectly into the Arsenal team, and possibly help their fans to forget about the departed Cesc. The biggest stumbling block for Arsenal could be the involvement of other clubs who will pay more than them in any potential transfer negotiations.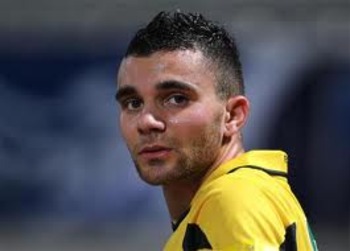 Marvin Martin has had a quick rise to fame in the French league and internationally for France too. Despite his recent
admission
that he would like to play in Spain, he is still a possible target for Arsenal in the January transfer window. He is another player who looks like he might have the ability to take the place of the departed Cesc in the Arsenal team.
Like Gotze he has excellent technical ability and he has the ability to pick a pass, but he doesn't score as many goals as Gotze. He will turn 24 in January which means he is approaching his peak, and that makes him an attractive target for Arsenal too. He was the most creative player in the French league last season with his club Sochaux, and he has made his way into the French national team too.
Arsene Wenger has had a great record with French signings in the past, and he could be the man to help Martin become one of the best playmakers in the world. He might also be available at a price which would be more to Arsenal's liking.