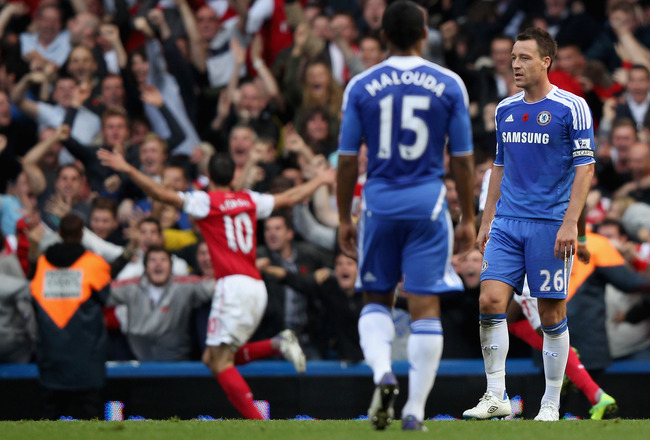 Arsenal's 5-3 win away to Chelsea last week was an exceptional performance by the team, and it brought back some memories of some famous victories on the road in the past.
I've been an Arsenal fan for a long time now, and I can remember seeing them win at some of the most intimidating venues in England and Europe too. They have gone to the grounds of some of their biggest rivals and produced results to win some big games and some trophies too.
I'll attempt to list 10 of those games that stand out in my memory, and hopefully the memories of other Arsenal fans too.
Tottenham Hotspur 0-1 Arsenal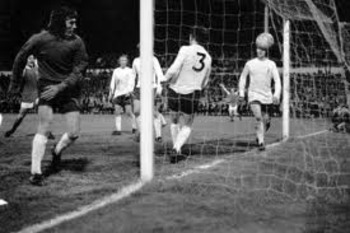 Arsenal had never won the double before 1971, but they had a chance to emulate the achievement of Spurs 10 years earlier. Their final league game of the season was away to their closest rivals on May 3rd, and Arsenal need a 0-0 draw or a win to clinch the league title.
The Arsenal team of 1971 were noted for their defensive solidity and effectiveness, but they didn't have an awful lot of flair. The game looked to be heading for the goalless result that Arsenal required until Ray Kennedy popped up to put Arsenal ahead with three minutes left. The Spurs then threw everything forward knowing that a goal would hand the title to Leeds United, but Arsenal held out.
Arsenal went on to beat Liverpool in the FA Cup final and emulate the achievement of their near neighbours, but they have of course managed it twice more since then. The Spurs have languished among the ranks of the also-rans since that day, as Arsenal have gone on to cement their place as one of the top clubs in England and the world too.
Juventus 0-1 Arsenal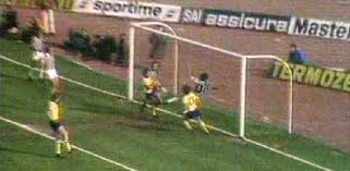 Arsenal won the FA Cup in 1979, and they qualified for the European Cup Winners Cup for the next season. They progressed all the way to the semifinal, and they drew Italian giants Juventus in that tie. The first leg was at Highbury, and it ended 1-1 with Juventus taking a precious away goal back to Italy with them.
At that time, Italian teams were masters of defensive strategy and Arsenal's chances of getting a result in Italy seemed very slim. The game seemed destined for the 0-0 draw that would put Juventus through to the final until young Paul Vassen intervened in the very last minute to earn Arsenal a sensational win. They went on to lose the final to Valencia on penalties, but they were the first English club ever to win away to Juventus.
Vassen's career was short-lived, as he suffered a bad knee injury and he had to retire in 1983 at the tender age of 23. After that he slowly descended into a life of drug addiction and crime before he was found dead at the age of only 39 in his flat in Bristol. A career which promised so much had been cut short, but he will always be fondly remembered by Arsenal fans.
I can still remember to this day listening to that game live on the crackling radio, and jumping for joy when Vassen became my new hero even though he was only four years older than me. It seemed like the start of a dream career that every young fan wishes upon himself, but sadly clubs didn't look out for the welfare of ex players in those days. May he rest in peace, and he will always have a place in my heart.
Liverpool 0-2 Arsenal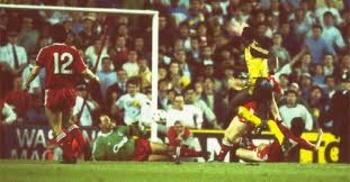 Arsenal had fought with Liverpool all through the 1988/89 season for the First Division title, and it all came down to the final game of the season. Arsenal traveled to Liverpool on a Friday night for that game in a rearranged fixture after the turmoil caused by the Hillsborough disaster. Their task on the night was very simple, as they had to win by two goals to win their first title since 1971 at the expense of Liverpool.
Liverpool had dominated English football for well over a decade and Anfield was a fortress that was seldom breached by opposing teams. As the game progressed, Arsenal gradually started to commit more men forward, and Alan Smith scored a goal to give them some hope. That meant they just needed to score once more to take the title by the closest of margins.
The game entered its final minute with Arsenal still needing that goal, and they broke quickly from defense. Michael Thomas raced on to a through ball, and after getting a lucky bounce off a defender's leg he had only the keeper to beat. Arsenal fans everywhere held their breath, and Thomas fired the ball past Bruce Grobbelar to clinch the title for Arsenal.
That moment will remain forever in the hearts and minds of Arsenal fans, as possibly the club's finest moment.
Standard Liege 0-7 Arsenal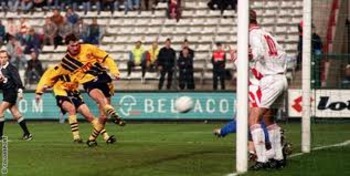 Arsenal won the FA Cup and League Cup double in 1993, and qualified for the 1994 Cup Winners Cup. In the last 16 they drew Belgian side Standard Liege, and they won the home leg 3-0. They went to Belgium with a healthy lead, and they were clear favourites to progress to the next round.
Arsenal left their star striker Ian Wright out of the team, as he was one yellow card away from a suspension, but it didn't matter very much in the end. Standard may not have been the greatest opposition in the world, but Arsenal absolutely tore them apart as they won 7-0. That Arsenal team were not noted for their flair, but they showed that they were more than capable of turning on the style.
Arsenal went on to win the Cup Winners Cup that season with an Alan Smith goal in the final against Italian side Parma.
Manchester United 0-1 Arsenal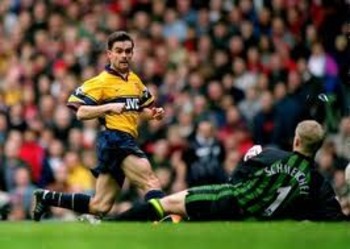 Manchester United were the undisputed kings of the Premier League when Arsene Wenger began his first full season in charge of Arsenal in the 1997/98 season. United had built up a commanding nine-point lead at the top of the table when Arsenal came to visit them in March. Arsenal had three games in hand on United, and they knew a victory would put them right back in the title race.
Arsenal defended resolutely on the day, and Marc Overmars was a constant threat to United on the break. With just over 10 minutes to go, Overmars broke clear yet again, and this time he managed to put the ball beyond Peter Schmeichel in the United goal. Arsenal held out for the win and suddenly the title race was wide open again.
Arsenal went from strength to strength after that game and they clinched the league title for the first time under Wenger. They won 13 games in a row and United were simply unable to keep up with the pace they set. They then added the FA Cup to their league title with a 2-0 victory over Newcastle United for the second domestic double in their history.
Manchester United 0-1 Arsenal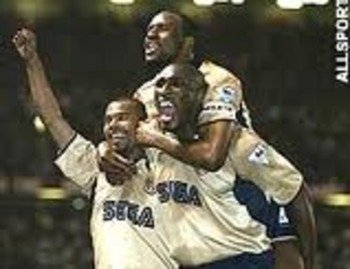 Arsenal won the FA Cup final on May 4th 2002, and they traveled to Manchester United four days later needing a win or a draw to complete their third domestic double. Even if Arsenal didn't get the result they wanted, they had another game afterwards to claim the title, but they knew they could claim the glory that night. It was a glorious opportunity to claim their third domestic double, and again knock United from their lofty perch in English football.
Arsenal had won their previous 11 league games and they were by far the best team in the Premier League that season. Ten minutes into the second half, Sylvan Wiltord scored the goal Arsenal needed after a great break from Freddie Ljungberg, and Arsenal won the title on the ground of their closest competitors yet again. Arsenal went on to win their final game to finish the season with 13 straight league wins.
They also managed to complete their entire away programme unbeaten, and that was an indication of what was to come two seasons later.
Inter Milan 1-5 Arsenal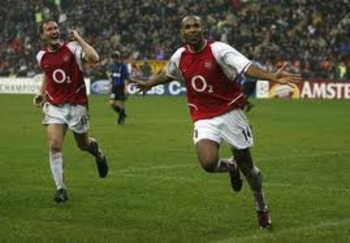 Arsenal had lost 3-0 at home to Inter Milan in their Champions League group in 2003, and they headed to the San Siro for the reverse fixture needing a win to have any chance of progressing. It wasn't going to be an easy task against an Inter team which had won so comprehensively at Highbury, but Arsenal were more than up to the task.
Arsenal had taken only one point from their first three group games, but they had managed to get a very late winner against Dynamo Kiev in their previous game to give them hope in the group. They took the lead against Inter, but the sides were level at halftime and Arsenal desperately needed the win. Arsenal went up 2-1 in the second half, and Inter pushed men forward to try to get an equaliser.
As Inter committed more men forward, Arsenal picked them off three times on the break in the final minutes, and ran out 5-1 winners. It was a glorious night for the traveling Arsenal fans, and the team went on to win their last group game and finish on top of their group.
Unfortunately they went out to Chelsea in the quarter finals, and finished the season with the Premier League as their only trophy.
Real Madrid 0-1 Arsenal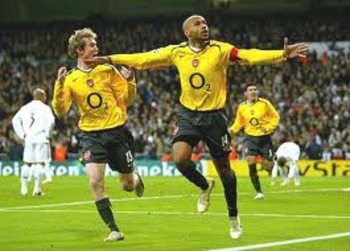 Arsenal traveled to Real Madrid in February 2006 for the first leg of their Champions League last 16 tie. They had been struggling in the Premier League that season, but their European form was a lot better. No English team had ever managed to win away to Real Madrid though, and the task ahead of Arsenal was huge.
They played very well on the night, and very early in the second half a piece of individual brilliance from Thierry Henry gave them the lead. Arsenal defended very well for the rest of the game, and took a valuable 1-0 lead back to London for the second leg. They managed to hold Madrid to a scoreless draw in the second leg, and went all the way to the final before losing to Barcelona.
The win in Madrid was a fantastic result for an Arsenal team which struggled domestically that season, and it was yet another night for their traveling fans to fondly remember.
AC Milan 0-1 Arsenal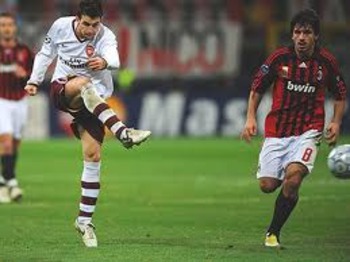 In early March 2008, Arsenal traveled to AC Milan for the second leg of their Champions League tie with a place in the quarter finals as the prize for the winner. Holders Milan had managed to get a 0-0 draw away to Arsenal, and they were clear favourites to progress to the next round.
Milan had never lost at home to an English club in European competition, and Arsenal were going to have to do an awful lot to change that statistic.
Arsenal played very well on the night, but the goal they wanted seemed to be eluding them as the game went into the last 10 minutes. With just over five minutes to go, Cesc Fabregas unleashed a long-range effort which flew into the net, and suddenly Arsenal were on their way through to the next round. Emmanuel Adebayor added a second goal late to give Arsenal a richly deserved 2-0 win.
Arsenal went out to Liverpool in the next round in controversial circumstances, and a season which promised so much ended up with no trophies for them. They did have the glory of winning away to Milan for their traveling fans to boast about though, but it was scant consolation.
Chelsea 3-5 Arsenal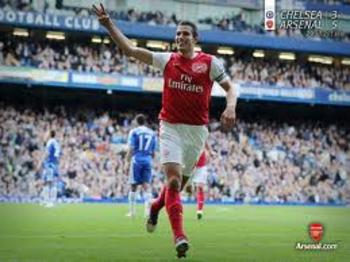 Arsenal traveled to Chelsea last week knowing that they had to take three points to continue their revival after a poor start to the season. It wasn't going to be an easy task for them against a Chelsea team who had won all four of their home games in the Premier League. Arsenal had only taken one point in their four away games, and they had conceded 14 goals too.
In a game where both teams forgot the art of defending, Arsenal ran out 5-3 winners with a hat trick from star striker Robin Van Persie. The ease at which they opened up the Chelsea defence was quite amazing, and the win brought Arsenal back to within three points of third place in the Premier League.
There is still a long way for them to go this season, but if they can build on that performance they could just end up finishing a lot higher than they are expected to.
That's it for today.
It's not too late to join the over 900 teams in my fantasy league, and there are prizes for the top three teams at the end of the season. Just go to the
site
and use the code 125540-42785 to join my league when your team is set up.
To join the predictions league, just go to the
site
and set up your predictions. Then use the code F688F-JCO to join my league. I'll update the league table in my predictions every week.
Don't forget you can follow me on
Twitter
,
Tumblr
and
Facebook
, too.
I'm also a member of a very good and very active Arsenal group on Facebook which you can join
here
.
See You Tomorrow.