Arsenal host League Two side Shrewsbury Town tonight in the third round of the Carling Cup. It's an opportunity for Arsene Wenger to showcase some of his fringe players, as well as some of the young talent available to him. In this article I will attempt to assess the relative strengths of some of those players who might get a chance.
Alex Oxlade-Chamberlain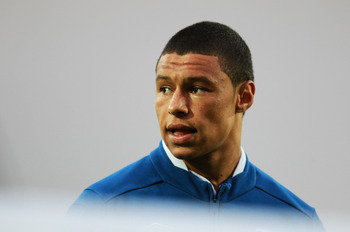 Arsenal signed Alex Oxlade-Chamberlain this summer from Southampton for a fee believed to be somewhere between £10 and £15 million. He has been compared to Theo Walcott, who was a little younger than him when Arsenal signed him from the same club for a similar fee.

I can see why the comparisons have been made, but I think Chamberlain is a very different player. He seems to have more awareness of what's going on around him on the pitch and where his teammates are. His ability to take players on and beat them is also superior to that of Walcott, and he has a very bright future in the game.
Arsenal might play him in a central role tonight, but he was very impressive playing in a wide role for the English under-21 team recently. He assisted in four goals in just two games, and his crossing was quite superb.

He has plenty of skill, pace and intelligence, and hopefully he will get the chance to show it tonight.
Ju-Young Park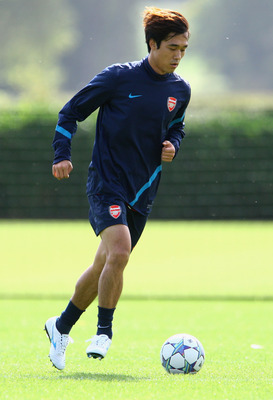 Ju-Young Park is another player signed by Arsenal in the last transfer window, and they got him for a very reasonable price. He's the current captain of South Korea, and he can play in any of the three attacking roles deployed by Arsenal.

He's 26 years old and will return to his homeland for military service when his Arsenal contract is up, which is why they got him for such a good price. He has plenty of skill and pace, as well as an eye for a goal, and his hard-working attitude will hopefully rub off on some of the other Arsenal players.

He should get his chance to make his Arsenal debut tonight, and hopefully he will flourish against a team three leagues below Arsenal.
I think he will play in a wide role, but his flexibility will allow him to interchange with the other attacking players. I wouldn't be at all surprised to see him score a goal on his debut.
Ignasi Miquel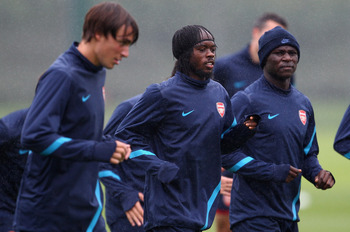 Ignasi Miquel is a Spanish central defender who will turn 19 next week. He joined Arsenal in 2008 and has gradually worked his way through the Arsenal underage teams and reserves.
He is probably considered to be the sixth-choice central defender at the club, but only because of his age and relative inexperience.

Along with being Arsenal's reserve team captain, he was a member of the Spanish under-19 team that were the European champions this summer.

His formative years were spent at Barcelona, and he is a defender who is well capable of playing along with his defending duties. He played twice in the FA Cup for Arsenal last season and came on as a substitute for his Premier League debut against Liverpool last month.

I expect to see him organising the defence despite his youth, and taking the opportunity to bring the ball out and use it when the chance arises. He has all the assets required to be a top-class defender in years to come, and hopefully he can display them tonight.
Emmanuel Frimpong
Emmanuel Frimpong looked likely to make the breakthrough to the Arsenal first team last season, but he suffered a bad injury and missed almost the entire season. His career has been put back by a whole year as a result, but he seems to be determined to make up for lost time this season.

He featured in Arsenal's preseason as a defensive midfielder, and he made his debut as a substitute in their first game of the season against Newcastle United.

He is seen as almost a direct replacement for Alex Song, and it's a position for which Arsenal have needed some reserve strength for a while. His chances will be a little limited this season, as Song is the first choice, but he should get quite a few opportunities to shine.

He is a very strong player with a great engine, and a tough tackler, too. He has already shown this season that he is by no means overawed by playing in the Arsenal first team, and I expect more of the same from him tonight.

As well as doing all the hard work required in the centre of midfield, he has shown an ability to drive forward and threaten the opposition goal when the chance occurs. If he can get a firm grip on the midfield tonight, he could be the player that helps Arsenal to dominate the game.
Carl Jenkinson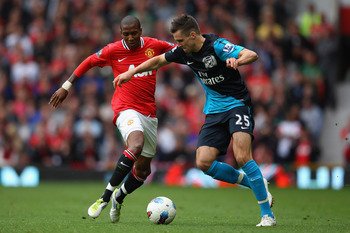 Carl Jenkinson was signed from Charlton Athletic in the last transfer window, and he has taken the role of understudy to Bacary Sagna.

He was thrown into action sooner than expected, as Arsenal suffered an early season injury crisis. Despite looking a little raw at times, he has also shown loads of potential, and he should have a much better chance to shine tonight.

His defensive basics look sound, and he likes to get forward from the right back role, too. His height will be an advantage to Arsenal as well, as their full-backs have been quite short for the last number of years.

If Arsenal can progress in the Carling Cup, Jenkinson will get the game time he needs to progress, and hopefully that progress can see him put pressure on Sagna for a place in the team.
Yossi Benayoun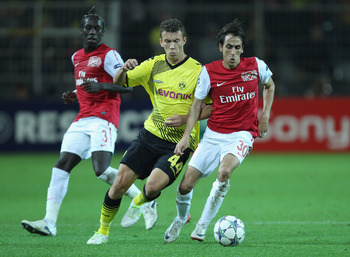 Yossi Benayoun seemed to be a strange deadline-day loan to arrive at Arsenal, but if he can stay fit he could have an awful lot to offer the club.
He is 31 years old, but he has always managed to score and make goals for whichever club he played for.
He has added some much-needed experience to the Arsenal squad, and he will be their most experienced player on the field if he plays against Shrewsbury tonight.
He looked very good in the away draw with
Borussia Dortmund in Arsenal's Champions League group, and he showed how hard he can work. He also showed his creative side, and given the chance tonight he could cause Shrewsbury some real problems.
The Shrewsbury players will rarely have come up against a player with his skill and intelligence on the ball, and his eye for a goal could be rewarded against them tonight.
That's it for today.
It's not too late to join over 850 teams in my Fantasy League, and there are prizes for the top three teams at the end of the season. Just go to the
site
and use the code 125540-42785 to join my league when your team is set up.
To join the predictions league just go to the
site
and set up your predictions. Then use the code F688F-JCO to join my league. I'll update the league table in my predictions every week.
Don't forget, you can follow me on
Twitter
,
tumblr
and
Facebook,
too.
I'm also a member of a very good and very active Arsenal group on Facebook, which you can join
here.
See you tomorrow.